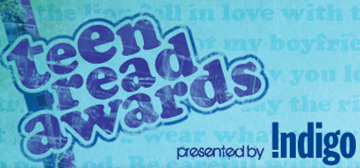 We were really sad when we heard that the Teen Read Awards were only open to teens. Since we no longer fall under the teen category- sigh - we couldn't go :(. We did manage, however, to get the wonderful Liz of Midnight Bloom Reads to do a guest post about the event. We are beyond thankful and grateful that Liz has taken the time out of her busy schedule and has honored us with a guest post :) We hope you all enjoy it as much as we have!
......................
As many of you know, the first annual Indigo Teen Read Awards took place in Toronto just over a week ago and I had the lucky opportunity to attend! It was so much fun being with over 500 fellow book lovers, celebrating the teen novels that we've all come to read and adore! Ever since the TRA's had been announced earlier in the summer and then Canadian teens got to vote everyday for their favourite choices, I absolutely knew I had to find a way to somehow go.

When I heard about the chance for free tickets by lining up at Yorkdale Indigo, I knew waking up a little bit earlier on a Saturday morning was totally going to be worth it. So that's how two weeks later, my sister and I found ourselves lining up at around 5:30 p.m. outside Six Degrees, the venue where the awards were taking place, and unable to contain my excitement.

We had a pretty decent spot up front, within the first thirty people or so, but we didn't actually get to see the red carpet action at 6:00 p.m. We did hear a cheer when Richelle Mead appeared though! It would have been cool to see but seeing as everyone waiting was lined up along the street, I'm sure most of them didn't get to see it, but that's okay! We were kept entertained by a magician, who at some point managed to burn a whole through his deck of cards, and there was even a mime! I barely even noticed how much time was flying by until before we knew it, we were walking inside!
The first thing we saw when we entered the main room was this mountain of swag bags which had all of us wondering just what was inside them! Soon enough, the place was getting packed and the
DJ was blaring catchy songs to get the crowd moving! Over 500 people were packed in the place, laughing, talking and dancing as we all waited for the real 'show' to begin. Prizes were given away periodically, including a few Kobo eReaders, books, and even a laptop to a girl who won the dance-off! Myself? Well, I was to snag a Hunger Games t-shirt when some were thrown out! So many things happening and the TRA's hadn't even begun!

Surprise guest, Emily Osment (from Hannah Montana), kicked off the show by singing a few songs from her upcoming album, and I was surprised… she can actually sing pretty well live!


And then the hosts, MTV's Jessi Cruikshank and Dan Levy, came onto the stage, and nominees and winners were soon announced!
But wait- it wasn't rushed like that! In between awards, there were also a few breaks for performances by Alyssa Reid and Alex Lacasse! (Yeah, so I had no idea who they were but
I thought they performed well too… even if Alex seemed like he was in a boy band, lol.) There were also some a short videos to introduce each novel in the Best Read category, 'interpreted' by Monster Factory, and some of them were quite funny! For Kelley Armtstrong's The Reckoning, a cut out of Jacob Black and Harry Potter randomly appeared, so Jessi commented how Taylor Lautner still looked good which
brought some laughs.

These were the winners of the night after over 330 000 votes:

Best Read~ The Hunger Games: Catching Fire by Suzanne Young

Best All-Time-Fave~ Harry Potter and the Deathly Hallows by J.K. Rowling

Best Series~ Vampire Academy: Spirit Bound by Richelle Mead

Best Book-To-Flick~ Harry Potter and the Half-Blood Prince

Best New Writer~ Fallen by Lauren Kate

Best Hero~ Percy Jackson and the Olympians: The Last Olympian by Rick Riordan

Best Villain~ Prophecy of the Sisters by Michelle Zinc

Best Hottie~ Mortal Instruments: City of Glass by Cassandra Clare

Best Lip Lock~ Breaking Dawn by Stephenie Meyer

Best Canadian Read~ Darkest Powers: The Reckoning by Kelley Armstrong

If an author won for their novel, but was unable to attend, they played a short video with the author's acceptance speech! Suzanne Collins, Rick Riordan, and Cassandra Clare were among some of those authors, but one of the coolest acceptance speeches to hear was J.K. Rowling. YES, THE J.K. ROWLING!! She wrote a letter to her Canadian fans thanking us for voting and sharing her gratitude to the Canadian branch of Dumbledore's Army. Quite a few authors such as Aimee Friedman, Kelley Armstrong, Carrie Jones, Richelle Mead and Melissa de la Cruz did come down the stairs from the VIP Author Lounge to mingle with fans though, so it was great to meet them!

Everyone was happily cheering the novels and authors who won, and there was only one possible upset of the night where there was almost a quick confused hush before some applause. The category? Best Villain. I guess many in the audience had been expecting Lord Voldemort to win.

Anyways, I know this post was pretty long and I probably rambled on a lot, but thanks so much for reading! That pretty much sums up the awesome night that was the TRA's! Once all the awards were given out, the TRA's were officially over and we were each handed a swag bag as guests slowly made their exit. It was definitely a night that I won't be forgetting any time soon!

… And thank you Ashley and Christie for asking me to guest blog about the event!!