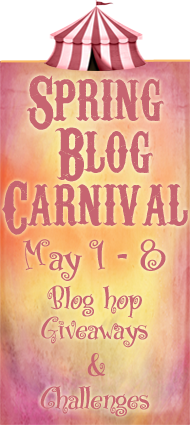 Hello everyone and welcome to our stop on the Spring Blog Carnival Hop! This fun event not only has giveaways but some blogs have challenges too! If you click on the icon above you will be directed to a long list of all of the other blogs you can hop to!
We were allowed to choose any book related prize for this Blog Hop giveaway so we decided to go with a theme: Dystopia! There are some incredible YA Dystopia novels out now, or on the way, and we got inspired. :) This giveaway is open
INTERNATIONALLY
(anywhere the Book Depository ships). You can enter this giveaway by filling out the form at the bottom of this post. Entries will be open until 11:59PM EST on Sunday May 8th. The winners will be chosen May 9th using Random.org. The winners will be contacted via email and will have 48 hours to respond. If we do not hear from them in thie time frame new winners will be chosen.
The prizes you ask? There will be
3
winners and each will be able to choose
ONE
of the following books...
What if you knew exactly when you would die?
Thanks to modern science, every human being has become a ticking genetic time bomb—males only live to age twenty-five, and females only live to age twenty. In this bleak landscape, young girls are kidnapped and forced into polygamous marriages to keep the population from dying out.
When sixteen-year-old Rhine Ellery is taken by the Gatherers to become a bride, she enters a world of wealth and privilege. Despite her husband Linden's genuine love for her, and a tenuous trust among her sister wives, Rhine has one purpose: to escape—to find her twin brother and go home.
But Rhine has more to contend with than losing her freedom. Linden's eccentric father is bent on finding an antidote to the genetic virus that is getting closer to taking his son, even if it means collecting corpses in order to test his experiments. With the help of Gabriel, a servant Rhine is growing dangerously attracted to, Rhine attempts to break free, in the limited time she has left.
In Beatrice Prior's dystopian Chicago, society is divided into five factions, each dedicated to the cultivation of a particular virtue—Candor (the honest), Abnegation (the selfless), Dauntless (the brave), Amity (the peaceful), and Erudite (the intelligent). On an appointed day of every year, all sixteen-year-olds must select the faction to which they will devote the rest of their lives. For Beatrice, the decision is between staying with her family and being who she really is—she can't have both. So she makes a choice that surprises everyone, including herself.
During the highly competitive initiation that follows, Beatrice renames herself Tris and struggles to determine who her friends really are—and where, exactly, a romance with a sometimes fascinating, sometimes infuriating boy fits into the life she's chosen. But Tris also has a secret, one she's kept hidden from everyone because she's been warned it can mean death. And as she discovers a growing conflict that threatens to unravel her seemingly perfect society, she also learns that her secret might help her save those she loves . . . or it might destroy
her.
Vi knows the Rule: Girls don't walk with boys, and they never even think about kissing them. But no one makes Vi want to break the Rules more than Zenn...and since the Thinkers have chosen him as Vi's future match, how much trouble can one kiss cause? The Thinkers may have brainwashed the rest of the population, but Vi is determined to think for herself.
But the Thinkers are unusually persuasive, and they're set on convincing Vi to become one of them...starting by brainwashing Zenn. Vi can't leave Zenn in the Thinkers' hands, but she's wary of joining the rebellion, especially since that means teaming up with Jag. Jag is egotistical, charismatic, and dangerous--everything Zenn's not. Vi can't quite trust Jag and can't quite resist him, but she also can't give up on Zenn.
This is a game of control or be controlled. And Vi has no choice but to play.
Happy Carnival Blog Hopping!