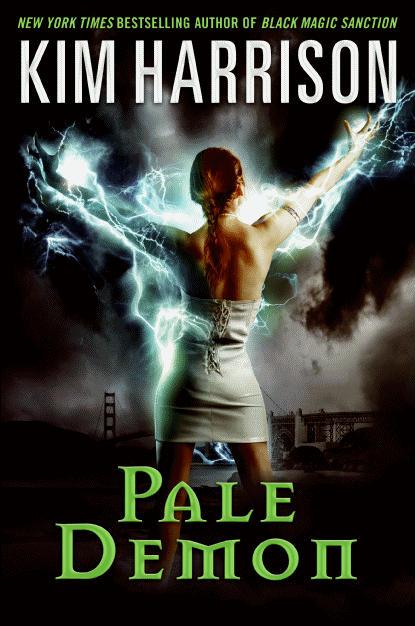 PUBLISHER:
Harper Voyager
Condemned and shunned for black magic, Rachel Morgan has three days to get to the annual witches' conference and clear her name, or be trapped in the demonic ever-after . . . forever after. But a witch, an elf, a living vampire, and a pixy in one car going across the country? Talk about a recipe for certain disaster, even without being the targets for assassination. For after centuries of torment, a fearsome demon walks in the sunlight—freed at last to slay the innocent and devour their souls. But his ultimate goal is Rachel Morgan, and in the fight for survival that follows, even embracing her own demonic nature may not be enough to save her.
PUBLISHER:
HarperCollins
The Summer King is missing; the Dark Court is bleeding; and a stranger walks the streets of Huntsdale, his presence signifying the deaths of powerful fey. Aislinn tends to the Summer Court, searching for her absent king and yearning for Seth. Torn between his new queen and his old love, Keenan works from afar to strengthen his court against the coming war. Donia longs for fiery passion even as she coolly readies the Winter Court for battle. And Seth, sworn brother of the Dark King and heir to the High Queen, is about to make a mistake that could cost his life. Love, despair, and betrayal ignite the Faery Courts, and in the final conflict, some will win . . . and some will lose everything. The thrilling conclusion to Melissa Marr's New York Times bestselling Wicked Lovely series will leave readers breathless.
PUBLISHER:
Greenwillow Books
Eden didn't expect Az. Not his saunter down the beach toward her. Not his unbelievable pick up line. Not the instant, undeniable connection. And not his wings. Yeah. So long happily-ever-after. Now trapped between life and death, cursed to spread chaos with her every touch, Eden could be the key in the eternal struggle between heaven and hell. All because she gave her heart to one of the Fallen, an angel cast out of heaven. She may lose everything she ever had. She may be betrayed by those she loves most. But Eden will not be a pawn in anyone else's game. Her heart is her own. And that's only the beginning of the end.
PUBLISHER:
Zebra
New York Times bestselling author Richelle Mead takes readers back to the Otherworld, an embattled realm mystically entwined with our world--and ruled by one woman's dangerous choice. . . Shaman-for-hire Eugenie Markham is the best at banishing entities trespassing in the mortal realm. But as the Thorn Land's queen, she's fast running out of ways to end the brutal war devastating her kingdom. Her only hope: the Iron Crown, a legendary object even the most powerful gentry fear. . . Who Eugenie can trust is the hardest part. Fairy king Dorian has his own agenda for aiding her search. And Kiyo, her shape-shifter ex-boyfriend, has every reason to betray her along the way. To control the Crown's ever-consuming powers, Eugenie will have to confront an unimaginable temptation--one that will put her soul and the fate of two worlds in mortal peril. . . Praise for Richelle Mead's Storm Born. . .
PUBLISHER:
Simon Pulse
Violet McKenna isn't a normal girl with normal teenage issues; she has more to contend with than most people could handle. Violet thought she was just crazy when she had a vivid vision of her dad's murder. Her life started falling apart when her premonition came true. She's had flashes of other events too. The problem was nobody believed her until she found a new school: Winterhaven. At Winterhaven, Violet finally feels like she belongs. She quickly finds a close group friends and discovers that they too have psychic 'gifts'—as do all the students at Winterhaven. But as soon as she feels settled she discovers the most intriguing and alluring boy she has ever met, and things quickly go awry. As the attraction between them grows, intense visions of the boy's death start to haunt her. In her premonitions the secret he is unwilling to share begins to reveal itself. And to Violet's horror, she learns that their destinies are intertwined in a critical--and deadly--way.
PUBLISHER:
Delacorte Books for Young Readers
In the city of Lovecraft, the Proctors rule and a great Engine turns below the streets, grinding any resistance to their order to dust. The necrovirus is blamed for Lovecraft's epidemic of madness, for the strange and eldritch creatures that roam the streets after dark, and for everything that the city leaders deem Heretical—born of the belief in magic and witchcraft. And for Aoife Grayson, her time is growing shorter by the day. Aoife Grayson's family is unique, in the worst way—every one of them, including her mother and her elder brother Conrad, has gone mad on their 16th birthday. And now, a ward of the state, and one of the only female students at the School of Engines, she is trying to pretend that her fate can be different.
PUBLISHER:
Simon Pulse
Ari can't help feeling lost and alone. With teal eyes and freakish silver hair that can't be changed or destroyed, Ari has always stood out. And after growing up in foster care, she longs for some understanding of where she came from and who she is. Her search for answers uncovers just one message from her long dead mother: Run. Ari can sense that someone, or something, is getting closer than they should. But it's impossible to protect herself when she doesn't know what she's running from or why she is being pursued. She knows only one thing: she must return to her birthplace of New 2, the lush rebuilt city of New Orleans. Upon arriving, she discovers that New 2 is very...different. Here, Ari is seemingly normal. But every creature she encounters, no matter how deadly or horrifying, is afraid of her. Ari won't stop until she knows why. But some truths are too haunting, too terrifying, to ever be revealed.
PUBLISHER:
Mira
Chloe Marin was lucky. She was just a teenager when a beachside party mansion turned into a bloodbath. According to authorities, the killers were later found dead in the swamp. Chloe's not so sure.Ten years later, as a psychologist consulting with the cops, she gets drawn in to the disappearance of a swimsuit model. Everyone assumes the girl ran off for some fun in the sun—everyone but Chloe, who's been visited by the model's ghost.Someone else is interested in the dead girl: Luke Cane, a P.I. investigating the disappearance for her father. Chloe and Luke barely trust one another, but they agree on the important things—they will bend the law to catch these killers, and there is an undeniable attraction between them.When another mass murder occurs, Chloe's beginning to think her presence is no longer a coincidence….